What Hybrid Powertrain is Used in the 2021 Kia Sorento Hybrid?
By Product Expert | Posted in Hybrid Vehicles, Kia Sorento on Tuesday, June 15th, 2021 at 8:45 pm
2021 Kia Sorento Hybrid Performance Features and Specs
For 2021, the Kia Sorento got a major style upgrade. Its style is much sportier, but it still provides the space and features that we love. However, as we all continue to grow more eco-conscious, you might want to drive a hybrid vehicle but don't want to let go of the Sorento. Well, you are in luck. The Kia Sorento Hybrid will provide you with the space and features that you love while also helping to reduce your carbon footprint. Today, we will be going over the performance features and specs of the 2021 Kia Sorento Hybrid, available in Naples, FL.
[ Related post: How Many Engines Are Available for the 2021 Kia Sorento? ]
A powerful and efficient hybrid system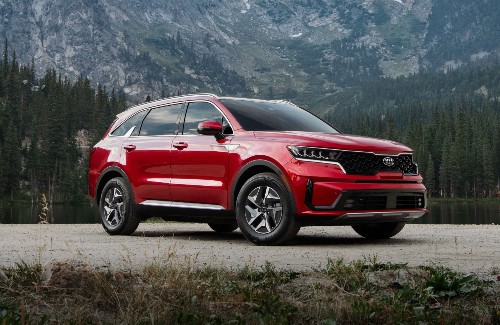 The hybrid powertrain in the 2021 Kia Sorento Hybrid consists of a gasoline engine, an electric motor, and a battery. This system delivers a combined power output of 227 horsepower and a combined torque of 258 lb-ft. The gasoline engine in this system is a 1.6-liter Turbocharged four-cylinder DOHC with CVVT. This engine has Idle Stop and Go technology to help improve fuel efficiency.
The electric motor in this system is an AC Synchronous Permanent Magnet Motor and the hybrid battery is a 270-volt Lithium-Ion Polymer battery. This system is then paired with a 6-speed automatic transmission and front-wheel drive. Overall, these performance features help to achieve a fuel efficiency rating of 39 city MPG, 35 highway MPG, and 37 combined MPG.
[ Read more: Which Kia Model Was Named the PARENTS Magazine Best Family Car 2021 Winner? ]
Test drive the 2021 Kia Sorento Hybrid
Are you impress by the performance of the 2021 Kia Sorento Hybrid? Well, experience the hybrid performance yourself by scheduling a test drive at Airport Kia of Naples today!